I think one of the hardest parts of teaching is developing and cultivating your teacher persona. Do you go for the Severus Snape and strike fear into the hearts of children by not smiling until Christmas? Or do you try and pull off the coolness Jack Black exudes in School of Rock and win children over that way? We all start teacher training thinking we'll end up doing a Robin Williams and be the most inspirational teacher that's ever walked into our student's lives.
But what if you've not seen a teacher like you? One of the greatest motivators is to see people like you succeed, so I've tried to always fill my teaching and my classroom with female scientists and queer scientists. The need to be surrounded by diversity comes from always teaching in a diverse environment, but not seeing diversity in the physics teaching world. To this day, apart from the other physics teachers I trained with, I have had an in-person professional relationship with one other female physics teacher. I am currently in my seventh year and I have never (knowingly) worked with another female or queer physics teacher.
It took me a very long time to be comfortable with my authentic self, and part of this is down to never seeing anyone that mirrored who I am in my day to day life at school. If you think things are rough in modern day schools, going to a Catholic School in Ireland in the 90s and 00s was a very bumpy ride.
So now, in the glorious teaching days of 2020, what can we do? How can we support students by embedding acceptance in our classrooms?
Model the behaviour you want your students to see – be accepting and don't be a bystander.
Stonewall, the LGBTQ+ Charity whose slogan is acceptance without exception, run a campaign called No Bystanders [Link Description and Content Warning – Ad for campaign, contains derogatory, homophobic, biphobic, transphobic, racist and sexist language.]
Make it clear that you will not be a bystander for any language or behaviour that might may a student feel marginalised or uncomfortable. Know the difference between banter and bullying, and don't be afraid to seek support in helping you support your students. The behaviour we walk past is the standard we accept, and as teachers we should not and can not accept any form of bigotry.
You can sign the No Bystanders Pledge, and encourage others to join you. Would you or someone in your school be interested in becoming a Stonewall School or College Champion?
Be mindful of how you phrase your questions and examples
One of my many talents is pulling random scenarios for questions out of this air. I'm even sick of the sound of my own voice saying, 'Now, they could ask you……'! But how inclusive is the space we create in our classrooms? When writing/using questions how often do we see female names? How often do we give examples that involve people that identify as non-binary? An example;
Ben and his friend are out for a bike ride. He accelerates from rest to a speed of 7m/s. He takes 11 seconds to reach this speed. What was his rate of acceleration?
How might a non-binary student see that question? Although I do not identify as non-binary (in the interests of full disclosure, I identify as a cisgender lesbian woman), how might a non-binary student read that question?
Ben and his friend are out for a bike ride. He accelerates from rest to a speed of 7m/s.

He

takes 11 seconds to reach this speed. What was

his

rate of acceleration?
By making small alterations to your resources not only are you normalising non-binary identities, you are establishing your classroom as a safe space for discussions that need to take place.
Ben and their friend are out for a bike ride. They accelerate from rest to a speed of 7m/s. They take 11 seconds to reach this speed. What was their rate of acceleration?
If you're not sure what to say, here's an excellent resource to get you started. We are constantly working against scientific misconceptions and inaccurate vocabulary so I never miss a change to reinforce something essential – especially my favourite topic of all time, the electromagnetic spectrum (if you didn't just start singing THE SONG in your head, I'm genuinely not sure if you're my type of person).
The folks over at Genderbread.org have designed (and regularly review and update) the Genderbread Person which helps to explain that things like gender identity and expression aren't binary ('Who's doing computer science, what does binary mean??'') and are in fact, a spectrum.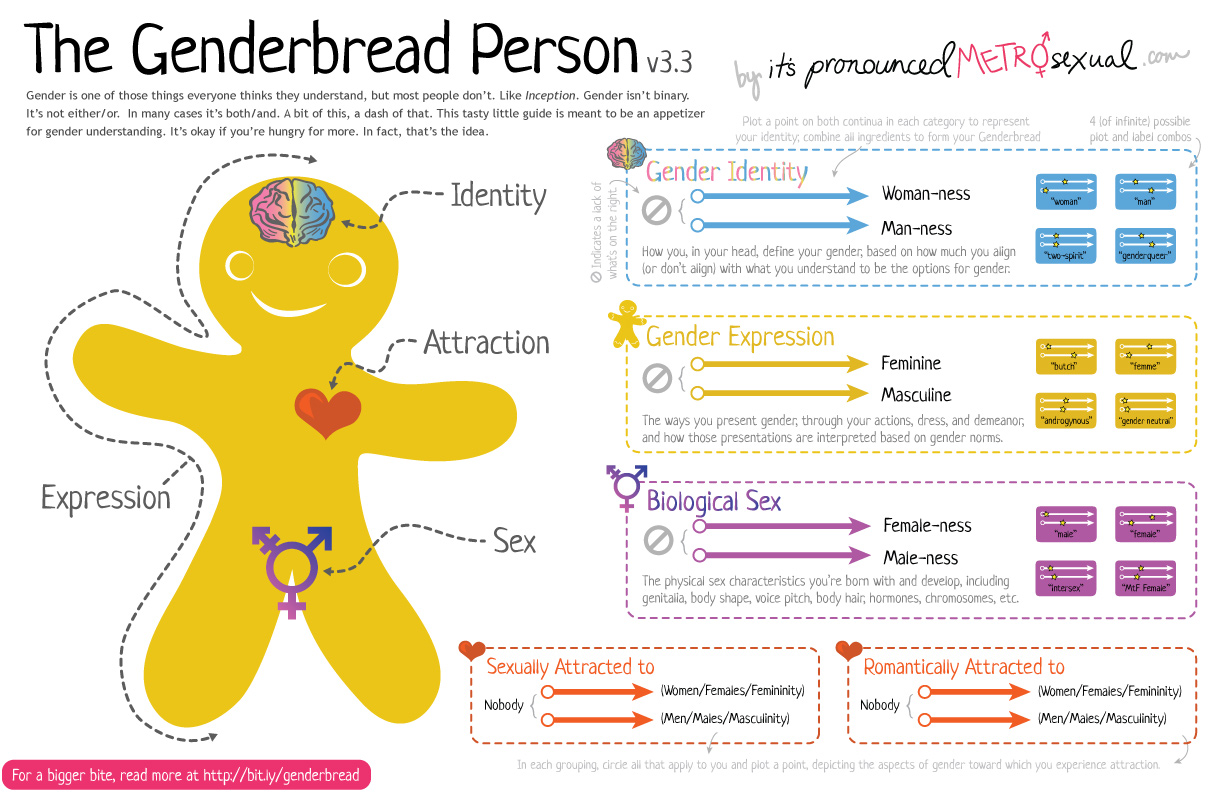 I seek out bloggers on instagram who look like me because I don't see women like me on Love Island. Even though I have lived out of Ireland since 2013, I make sure to surround myself with friends from Ireland so even though I'm over 3,000 miles from home there are people who will understand my slang or my pop-culture references.
I have a glorious team (I say team, because sometimes being my friend can be a full time job) of queer people that cushion me with support and love at every possible turn. These are situations where I am in control of the people who populate my world. When I was a teenager I didn't have this level of control, and would have appreciated knowing that there were people out there like me, even if I didn't know who I was yet.
Can you put your pronouns in your email signature? Here is an excellent post from Max Masure and Jay Bendett about how we can normalise pronoun sharing and why it is important.
You don't need to know all the answers, but make the effort to signpost to people who can help
Social media can be your best friend or your worst enemy, but it has enabled people from all over the world to form communities that never would have been without the wonder that is the internet. Inspired by the #ActualLivingScientist hashtag on twitter, Helly Teasdale (@HMTScience on Twitter) made a classroom display of screenshots of scientists out and about, doing their thing. She kindly shared her display with me and two entries in particular caught my eye.
People. Like. ME.
From there, I fell down a Twitter rabbit hole and ended up in the most diverse Wonderland.
500 Women Scientists and 500 Queer Scientists are two twitter accounts and websites that aim to promote scientists, their work and increase visibility. Hashtags like #ActualLivingScientist, #LGBTScientist, #WomenInSTEM, #WomenInPhysics and #NonBinaryInSTEM can be good to signpost to students (either in conversation, or simply on your walls as a display). While it's quite easy to look back at teenage me and say she didn't know what she was missing, nothing can replace the relief and joy of finding your place in the right community for you. If you live your life in shoes that are a tad too small, you never know just how uncomfortable they were until you're finally wearing a pair that are the right size.
What's important to remember is that we aren't perfect. None of us. I've used incorrect pronouns for students. I've failed to react as efficiently to comments I've heard in the playground. I've not had conversations that I knew people would benefit from, because I felt they might be difficult. But we are always quick to count our losses. Are you still crafting your teacher persona? Never be afraid to show your true colours, you never know who might need to see them.
(In case you're wondering, I like to think I'm the best outcome of a hybrid of Ms.Frizzle from The Magic School Bus and Mr.Gilbert from The Inbetweeners)
---
Featured photo by You X Ventures on Unsplash